Regarding the rims...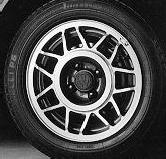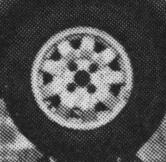 There have been questions regarding what the original rims on the 1984 GLi were. The American VW literature and magazine reviews regarding the 1984 GLi state that the car comes with 14" alloy wheels, yet many of the cars were delivered with a 9-spoke 13" alloy wheel.

I've always wondered why this was. Many people said that the dealer may have pulled a quick one on unsuspecting owners.

Here's a communication I had with Randy Mees, who bought his '84 GLi new...

     Here's some history on tire/wheel selection of our cars.
     
     
     The were shipping the GLI's here in the states with the Rabbit GTI 
     rims with 185-60 R14 tires (either Continental CH41 or Pirelli P6).
     
     Then the rim manufacturer had a strike, and as a result VW had to 
     switch to the 13" "claw" rims that were shipping on the Scirroco for 
     our cars.
     
     That is why on some of the magazines tests you see both rims.
     
     Then the strike ended.... and I bought mine with the GTI 
     rims/Continentals.
     
     I don't know if the the strike story is true, a dealer told me that 
     when I was shopping for my car.
     

Another story, according to a VW&Porsche article, is that the GLIs were in such high demand that the rim-manufacturer couldn't keep up, and thus some were shipped with the 13" claw rims.
As for the 13" rims on my car, according to the Canadian GLI sales literature, the 13" wheels were available as an option.

So there you have it. Is it true? I don't know. But it sure sounds better than having a dishonest VW dealer, because we all know that all VW dealers are quite honest....


---
Posted for public interest, not for profit.
Volkswagen, Jetta, Rabbit, GTI, GLI and any other registered trademarks or reserved trademarks are property of their respective owners and appear without permission.
---
Go back...
---
11/06/99