Golf GTI
A banzai Rabbit that's loaded with enough ammunition to embarrass the Goliaths of motoring
---
Motor Trend, Nov, 1981, p 90-94

by Jim McCraw
photos by Jim Brown
---
Snoopy's pronouncements on happiness notwithstanding, we believe that happiness is driving a truly capable car in a sea of plain vanilla. Our feelings on this matter were recently reinforced by spending a few weeks driving a Volkswagen Golf GTI around Los Angeles. The GTI, a European sports sedan and distant relative of the American Rabbit S, is so light and nimble it allows the driver to humble a host of Goliaths like Corvettes, TR8s and Porsches - let alonethe hordes of plain vanilla cars. With a GTI, you can choose off anything from 0-60, stay with it through the whoops and still stop at half as many gas stations.
The 1981 Golf GTI, available in Europe, is a factory hot rod. A classic example of parts-bin engineering applied to a proven platform, the GTI is a 3-door hatchback sedan that uses the Jetta dash and instrument panel, the Scirocco S reclining bucket seats, and the engine and close-ratio 5-speed transaxle found only in the European GTI and Scirocco. In addition, ride height is lowered about an inch with special MacPherson strut units and Bilstein shocks. The GTI uses both front and rear stabilizer bars (U.S. Rabbits have none), 5.5-inch alloy wheels and P15/70HR/13 tires, ventilated front disc brakes, a slightly quicker steering ratio than European standard, a padded 4-spoke steering wheel, add-on wheel flares, a single body stripe and a minimum of badging.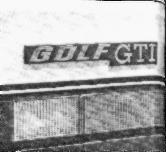 The GTI engine is the keystone of the car, just about the hottest production 1.6 there is. While U.S. Rabbits currently use only a 1,715cc version of the same basic engine (to comply with U.S. emissions regulations), the GTI is the performance leader of five different engines used in European Golfs. The 1,588cc engine uses larger intake valves, 9.5:1 compression ratio, dished crowned pistons, a different camshaft, premium bearings, an oil cooler, and Bosch K-Jetronic fuel injection. With these changes, the 1,588 engine jumps from a rating of 75 to 110 horsepower at 6,100 rpm, with a maximum torque of 103 pounds-feet at 5,000 rpm - an increase of 46%, with 16% more torque (103 pounds-feet versus 89). The GTI engine has a built-in rev limiter, set at 6750 rpm, that the engine will readily activate. It also has a free-breathing exhaust system that plays beautiful music between 3,000 and shutoff. The GTI 1.6 makes al ost 70 horsepower per liter - a higher state of tune than any normally aspirated Porsche in U.S. trim - and installed in the 1,800 lb Golf, gives a better weight-to-power ratio (163 lb/hp) than all the Porsche except the 928 (15.2). In addition, the GTI engine can be started instantly, floored immediately without complaint, rolled on from 1,500 rpm in 4th gear, or run for hours at maximum speed in 5th gear. There's not a weak or shaky bone in it's little cast iron body.
But even light weight and an endless supply of smooth power and revs won't make a complete package without proper gearing, and the GTI transaxle provides that. Internal ratios are 3.45, 2.11, 1.44, 1.12 and .9:1 in 5th, with a new 3.89:1 final drive ratio. Thus the driver gets 13.4:1 overall ratio in 1st gear for maximum launches, and a 3.53:1 ratio in overdrive high gear for highway cruising, with all the ratios in betweeen perfectly matched to the engine and each other. The ball-topped shifter is typically VW - excellent making for lightning changes up or down.

The Golf GTI takes to a dragstrip like Brooke Shields to a camera, with similar magical results. Even without using what they call a banzai start, the GTi will hustle from 0-50 mph in a little over 6 seconds and pass 60 in 8.65, on the way to a 16.59-second quarter-mile at 82.60 mph. The GTI's 0-60 time is better than that of an Audi 5000 Turbo, a Porsche 924 Turbo or a Citation X-11 HO660, and comes quite close to a Jag XJS or Triumph TR8. Admit it - how would you feel if you were driving one of these and got smoked off by a Rabbit? Now, imagine what it's like to be the smoker, instead of the smokee.
The GTI's ride and handling are equal to its engine's smoothness and output in just about any situation. Its 94.5 inch wheel base and 64/36 front weight bias are no different than the other Golf or Rabbit models, but it does have a lower ride height, quicker steering, stiffer springing, better shock absorption, more body-roll control, stouter brakes and more rubbr on the road. These are the same seven things one would add to any stock car to make it into a race car, and with power and gearing that the GTI already has, it can't help but handle well. With added roll control front and rear, the GTI's normal understeer is lessened substancially, making it very easy to drive quickly on any smooth pavement. On choppy surfaces, with a lot of throttle, the front driving wheels want to take the steering out of your hands. Lifting in the middle of a thight turn will aim the car inward and unload the inside rear tire quite readily.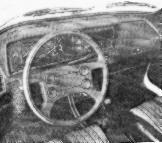 It really is great fun to drive a GTI because it has so much ammunition to use in so many driving situations, yet comprimises so little. The overall ride quality for s hort car with extra-duty suspension at the corners is very smooth, if not totally flat; the steering is quite precise everywhere but on center, where it becomes a touch vague. The brake system, an integral part of the car's handling in corners, is shared with all European VWs. The 9.4 inch front discs and 7.1 inch rear drums use a servo assist, consistently bringing the GTI down from 60-0 in 146 feet. (That's as well as a 911SC Weissach does with 11.3/11.6-inch all-discs.) The relatively high pedal pressure required is a small price to pay ofr dead-reliable braking performance.
What makes the GTI such an instrument of happiness is the fact that it is, after all, a Golf-a Rabbit to us. It has all the high quality , romminess, airiness and cargo capacity of any other Rabbit 3-door hatch, plus excellent sport seats, console-mounted gauges, the GTi steering wheel and just enough distinctive GTI blackout trim to let you know it's special even if nobody else on the road notices. And, amazingly enough, the Golf GTI delivers fuel economy like any other member of the VW family. Driven at posted limits around the MT mileage hoop, the GTI returned 36.2 MPG, a figure that's completely out of reach for any of the performance cars mentioned earlier. The 36-MPG figure is even more surprising when compared to teh EPA rating for a 1981 VW Rabbit S with a 74 hp 1,715cc engine and wide-ratio economy gearing. The U.S. made Rabbit S, with all the emissions and safety hardware in place, is rated at 26/40, for a combined rating of 33 mpg. On its home turf, the Golf GTI is rated at 26.9 at 75 mph, according to Common Market test proceedures.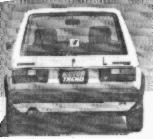 After putting the GTI through all of it's paces and compiling the data, we researched out files to see what there was on the U.S. market that could do all the good things a GTI can. But there simply isn't anything available that combines the GTI's acceleration, braking, handling and fuel economy, with room for four (or two, plus 39 cubic feet of cargo). Nothing. The Rabbit S, of course, comes the closest. It has the same red accent paint, striping, console, blackout trim, wide wheels and big tires, and the wide-ratio U.S. 5-speed. But the S is down 36 horsepower and lacks the steering and suspension changes made to the GTI. The question is whether VWoA will take the time and money and make the effort necessary to bring the S up to specs for U.S. customers.
We hope they do, of course. We can see a ready market for such an able automobile, and relatively few packaging difficulties. The GTI has already been sold in numbers over several hundred thousand, so the parts are there to be bolted on. Even if VWoA were to stop short of the whole package and just add suspension, steering and the close ratio transaxle behind the exixting 74-horsepower engine, the S would be much more exiting, with a ot more scat and very little loss in overall fuel economy. Although VWoA is one of the few companies that has a real handle on CAFE ratings, it could always use more sales in areas such as teh high-performance small-car segment. The current Rabbit S only looks like it belongs in this category.
Of course, the one thing the U.S. Rabbit S has that the Golf GTI doesn't is the blessing of the federal government-which leads us to explain how our test car got to L.A., and why it's been allowed to stay. It was purchased in Luxembourg, driven to Greece, and exported from Belgium to Los Angeles by John Rettie, a British citizen living and working in California as a non-resident alien. Under the law, he is entitled to bring an unfederalized car into the States and use it for a full year without penalty. At the end of the period, it must either be brought into compliance with the law or exported.
But for a U.S. citizen the laws are more stringent. A cash bond equal to the car's value must be posted; then, within a 30-day (extendable) period, the car must be federalized. If the desire to have such a slick car is strong enough to overcome the potential hassles, this is a short, but nonetheless workable, space of time-providing all the homework is done properly.
Our GTI test car has used up only a few weeks of its alloted stay here, so there's plenty of time to monitor the steps necessar to federalze it. Perhaps we'll be able to bring you some encouraging news regarding the cost of te process. In the meantime, the car will be properly equipped to cope with Southern California living. As purchased, it's a strippo, for two reasons: First, air condidioning, a near-necessity in California, isn't even offered on European models. It well either be foregone, or an aftermarked system will be installed. Second, a radio with European bands would have been useless here, so Rettie waited until the car was safely in the U.S. before thinking about a sound system for his sweet short. So, for now, he'll have to stay cool by going quickly with the windows down, and be satisfied with the music coming from the tailpipe.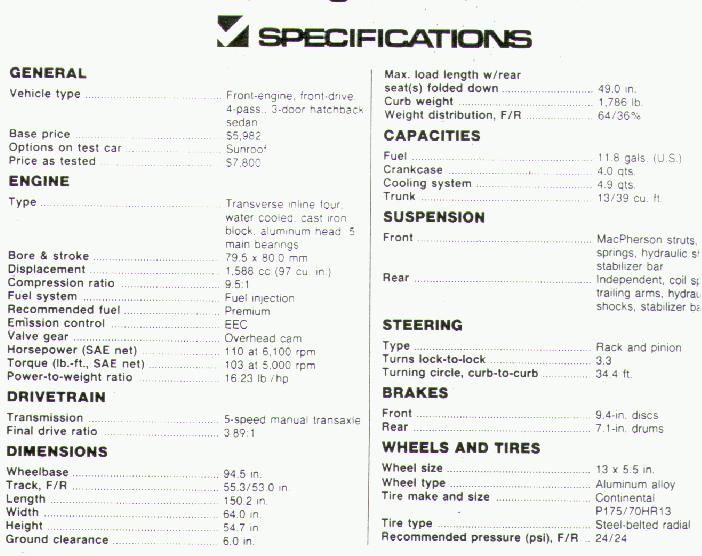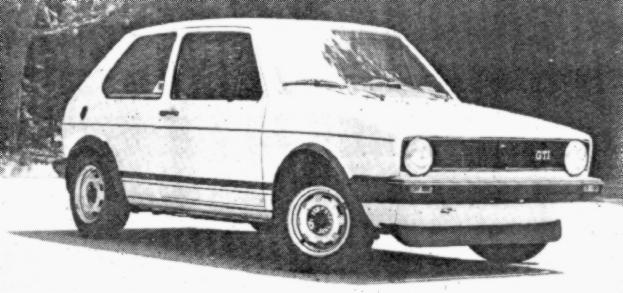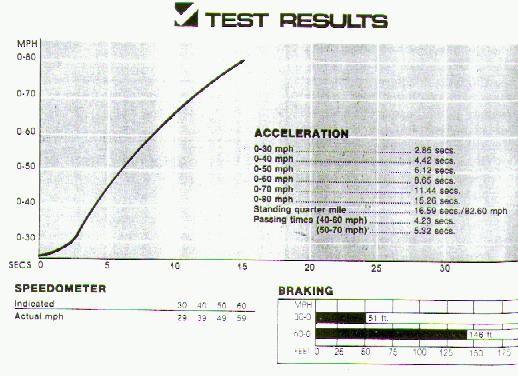 An Open Letter to VWoA



November, 1981


Volkswagen of America
Englewood Cliffs, New Jersey

Dear VWoA:

Ten years ago in Europe the fortines of Volkswagen were in jeopardy. The Beetle was no longer the darling of the car-buying public, and every new air-cooled VW model (1500, 1600TL, 411, etc.) was a disaster. Then, in 1975, partly due to your company's acquisition of Audi, you were able to introduce two front-wheel-drive water-cooled cars: the Golf and the Scirocco. Diehard VW enthusiasts were horrified, but consumers felt that you had at least built a "real automobile." Since then the Golf and its American counterpart, the Rabbit, have dominated the small=car scene. This is apparent in the number of Golf/Rabbit clones that have sprung up in Europe, Japan and the U.S.

The incredible success of the gasoline-powered Golf GTI (more than a quarter of a million sold) proves that there are enough people in Euope who still desire both economy and performance in one package. These are peoplenew to the VW family, people who would never have owned a Beetle, considering it a car primarily for those who couldn't afford more. The GTI is an "in" car -- everyday transportation for a car lover who might also own a Porsche.

But Volkswagen of America seems interested in selling economy only. True, last year you sold almost 100,000 diesel Rabbits. But it is our opinion that many Americans want more from a small car than just economy and would welcome a small, high-performance gasoline-powered car. We don't subscribe to the ntion that American car buyers are less demanding or sophisticated than the Europeans. So if the GTI is such a great success in Europe, why isn't it available in this country?

The U.S.-made Rabbit S is really a detuned version of the GTI with a larger displacement engine. Both use a fuel injection system. To equal the performance of a GTI, you would have to certify a new engine. Even if this cost you $250,000, and you sold only 20,000 cars, the cost of certification would add a mere $12,50 to the price of each car, an amount enthusiasts would gladly pay.

All the parts necessary to trnasform the Rabbit S into a genuine U.S. version of the GTI are off-the-shelf items that can be bolted on. In Europe, the GTI costs only $1,100 more than the Golf GLS. The Rabbit S lists here for $7,050; it would be easy for you to build a federalized GTI here and sell it for well under %10,000. Last year you sold nearly 9,000 Rabbit convertibles; there is no denying the demand for specialty Rabbits, even if they are expensive.

Introduction of a U.S. GTI would be an inexpensive, yet effective, way of boosting the VW image in America.

So how about it, VWoA? Build us a Rabbit GTI and give Americans a reason to leave their Porsches at home.

Regards,

The Motor Trend Staff


---
(* *) Dave's comments/original article errors
---
Posted for public interest, not for profit.
Volkswagen, Jetta, Rabbit, GTI, GLI and any other registered trademarks or reserved trademarks are property of their respective owners and appear without permission.
---

Go back... 12/28/97