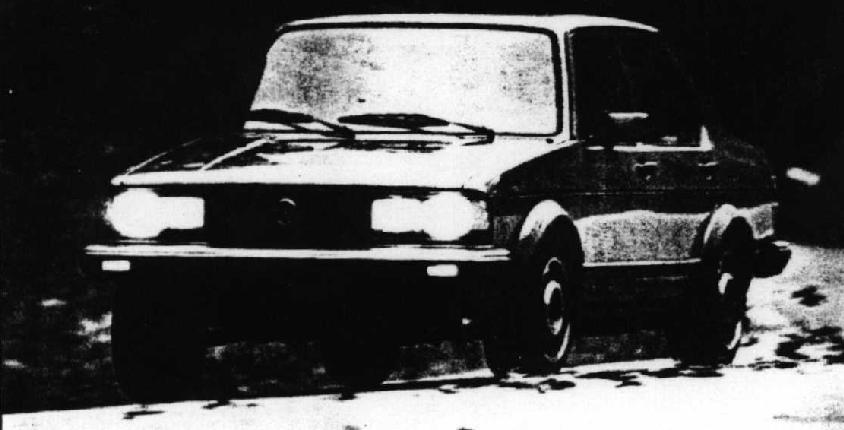 `Volkswagen Jetta GLI
The GTI branches out.
---
Car & Driver, Feb, 1984, p 63

by Jean Lindamood
photos by Aaron Kiley
---
Anything Volkswagen wants to do with its GTI hardware is fine by us. We love the little blitzrieg Bunny's heart of fire and nerves of steel. Now we've been introduced to a pre-production prototype of a Jetta with the GTI treatment. If that's the image VW wants for the Jetta in 1984, then that's just dandy here at 2002 Hogback.
The transfer of hot parts from Rabbit to Jetta makes perfect sense. With GTIs bagging about 35 percent of total Rabbit sales, VW wisely figured that a substantial number of its customers would pay an extra $340 for a pocket rocket with two additional doors and a trunk. And since the Jetta is really just a Rabbit with a trunk, its hot-rod engineering took very little effort. To distinguish the two cars further, VW calls the go-fast Jetta the GLI.
All the visual cues that set the GTI apart from lesser Rabbits are present on the GLI: matte-black fender flares, blackout trim, fat tires, and the bright-orange name badge stuck boldly onto a flat-black grill (* ?? *). But the essence of the GLI lies behind the grill, where you'll find the high-output, 90-horsepower, 1.8-liter four-cylinder engine and close-ratio five=speed transmission from the GTI. This engine has proved its worth in the racer Rabbit, though the added 200 pounds of the longer Jetta body slows its straight-line performance down womewhat. Still, the Jetta GLI manages to hit 60 miles per hour one and a half seconds quicker than the last plebeian Jetta we tested, and it shaves 0.7 second offf the base car's quarter-mile time. The GLI is also faster than the Mazda 626, the Chevy Type-10 Cavalier, and Ford's Escort GT. And our test-track findings corroborate the new 120-mph speedometer's triple-digit top-speed claim: flat out, the GLI will run 101 mph.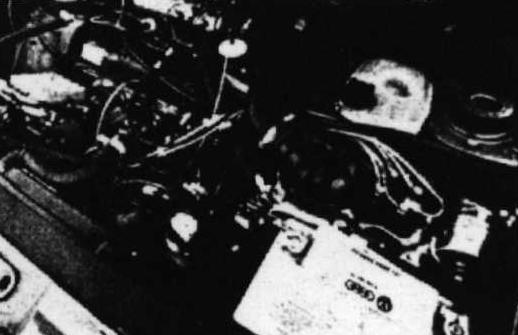 The GLI's close-ratio five-speed is a mixed blessing. In its favor, ultrashort, tightly spaced gearing ensures that an ample supply of power is always avilable under your right foot. Our top-gear-acceleration results are a graphic illustration of this advantage: from 30 to 50 mph, the GLI is more than four seconds quicker than the base Jetta, and the gap jumps to almost five and a half seconds from 50 to 70 mph. But youdon't need test equipment to feel such a large performance differential: you just praise the powertrain and pass the cars in front of you.
The downside of the close-ratio gearbox is noise. The GLI's four-cylinder engine sets up quite a din as it approaches its power peak, and a relatively short (0.89:1) fifth gear, coupled with the GLI's 3.94:1 finaldrive ratio, makes for some high-rpm, high=decibel fifth-gear crusing. A taller overdrive gear for fifth would not only tone down the engine-compartment racket over 80 mph, but also improve highway fuel economy - an important consideration given the modest (10.6 gallon) fuel tank.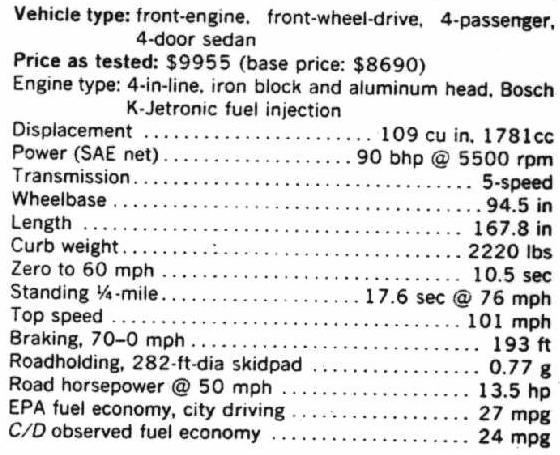 Another transmission complaint is from a mechanical standpoint: although shifting from first through fourth gears is tidy and straightforward, finding fifth gear is like threading an embroidery needle with rug yearn. If you don't appreiate being mistaken for a fresh-out-of-driving=school bimbo, you'll pay close attention to that final upshift, lest you find yourself in third gear with 8000 teeth-gnashing rpm showing on the tachometer.
When it comes to ride and handling, the GLI enjoys the same command and stability over the road that made the GTI famous. A 16.5 mm front anti-sway bar and a 20.5 mm rear bar were added, spring rates were stiffened, shock valving was recalibrated, and 185/60SR-14 radial tiles were mounted on 6.0-by-14 inch alloy wheels. The GLI's high-speed and cornering stability is excellent, its torque steer is mild, and it can e thrown into the turns with a minimum of body roll. A bit of throttle manipulation takes care of most of the unwanted understeer, and the new chassis turning soaks up an amazing share of the nasty bumps and lumps of Michigan's battered rural routes.
The handling capability of the GLI's suspension is backed up by equipment borrowed from the GTI, including a four-spoke, leather-wrapped steering wheel, slightly less aggressive versions of the GTI's sport seats, a full complement of gauges, and well-modulated brakes (ventilated discs in front, drums in the rear).
All told, the GLI is a super package for those who require more utility from their econoracers. With the subtle good looks and the stout Germanic performance of the GTI, it is definitely the best Jetta yet - which is all the more remarkable considering that 1984 is the last year for its current body style. VWV could just as easily have saved a few bucks and left the Jetta unchanged until 1985, but instead, interest in that car line has been rekindled. We hope VWoA'a management will continue on their performance path as the next-generation Jetta (and Rabbit) go through the final phases of development.
---
(* *) Dave's comments/original article errors
---
Posted for public interest, not for profit.
Volkswagen, Jetta, Rabbit, GTI, GLI and any other registered trademarks or reserved trademarks are property of their respective owners and appear without permission.
---
Go back...